Asheville's Finest Interior Design Firm

Ambiance Interiors holds a unique place in Asheville's Interior Design history. 2017 marks our 40th year of service. We have achieved this longevity with one simple focus: doing great work. Our talented design team is always learning and brings diverse knowledge, experience, and professional creativity to every project.
Our greatest achievement is the delight and gratitude we receive from our very satisfied clients.
The Beginning of Our Firm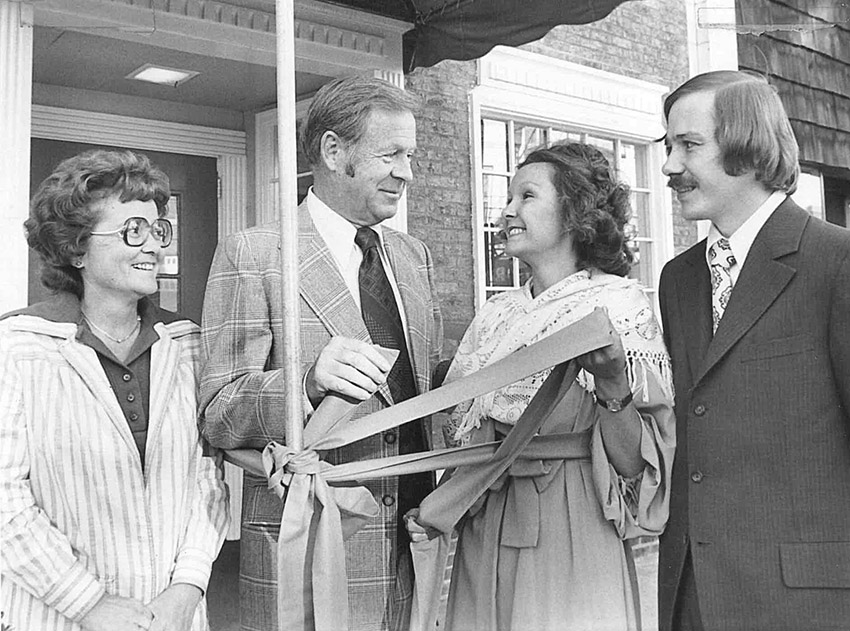 Ambiance Interiors Grand Opening, October 12, 1977. L-R, Sarah Long, Mayor Eugene Ochsenreiter, Kathryn Long, Wayne Caldwell.
Ambiance Interiors was the brainchild of Kathryn Long. After finishing Interior Design and Art History degrees, traveling, and working in New York City, Kathryn returned to Asheville to become part of Sluder Furniture Company, a fixture in downtown Asheville since 1905. Her parents, Ray and Sarah Long, had purchased the business in 1964.
First, the young designer sold fabrics and wall coverings from a corner in Sluder's. But an opportunity arose when the family bought two adjoining buildings and opened Ambiance at 27 Broadway in 1977. Ambiance grew from the beginning, and eventually expanded into 29 Broadway.
Linda Constable Joins Ambiance 1979
Shortly after Ambiance opened, a fabric swatch in the show window caught Linda Constable's eye. She was hired as Kathryn's first assistant. During the retail shop days, Linda made the display windows famous and kept the showroom chic and inviting. Nearly forty years later, she has become an accomplished interior designer of countless projects – some large, some small, all beautiful.
The Asheville 1,000 Save Downtown
Watch a 1980 UNC-TV interview with Kathryn about the downtown mall:
In 1977, Downtown Asheville was in decline. The Asheville Mall had opened six years before, and took most major retail with it. Many buildings downtown were vacant or under-used, and a worried city government in early 1980 announced a partnership with a developer to build a downtown shopping mall, which would have taken the Ambiance buildings (and 81 others).
Wayne Caldwell, who had joined Sluder's in 1976, and Kathryn led the opposition, organizing Save Downtown Asheville, which quickly attracted widespread support. A year and a half later, the bond referendum to finance the mall failed by a vote of 2-1, laying the groundwork for downtown Asheville's remarkable renaissance.
Responding to increased demand for downtown property, Ambiance moved in 2009 to the Chestnut Hill district, where we have continued to thrive.
Asheville's Finest Interior Designers Today
During times of both tumult and prosperity, we have remained one of Asheville's steadfast interior design firms, and we have learned to embrace changing times as growth opportunities. In this market, adaptation is paramount to success, so as the industry changes, so do we.
Recent Projects

Ambiance Interiors • 189 East Chestnut Street, Asheville, NC 28801 • 828-253-9403 • Fax: 828-258-2328 • info@ambianceasheville.com