Ambiance Interiors, Asheville's Oldest and Finest Design Firm

We are Ambiance Interiors – the trusted name in Asheville interior design since 1977. Ambiance is owned by founders, Interior Designer Kathryn Long, ASID, and Business Manager, Wayne Caldwell.
For artistry, training, and experience, you will find that our work is unparalleled in Western North Carolina.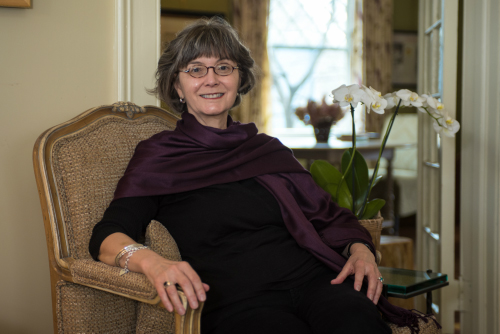 Kathryn S. Long, ASID
What started this long and successful career?
I have an early memory of my home burning to the ground on Christmas Day in 1953. I remember being held by a fireman that day, and they salvaged a set of building blocks. Those were the first toys I remember.
Read More Kathryn's Interview
When I started drawing house plans on church bulletins on Sunday mornings, my mother bought me a small drawing board, a ruler, and lots of paper. I still have some of the hundreds of house plans I created as a little girl
When I discovered you could major in Interior Design in college, I chose to go to East Carolina University for a BFA. I became so interested in art history that I went to the University of Georgia for an M.A. in that subject.
I needed to see all I had studied about, so I spent a year in Europe, settling down in Paris to "complete my education," as Hemingway would have put it.
I moved to New York City to work in a commercial design firm, then returned to Asheville to set up shop in Sluder Furniture Company, where my parents encouraged me to open Ambiance Interiors.
You've worked in Asheville interior design for 40 years. What has inspired you to keep going?
Mother Nature! My artist's eye enjoys the changing light, color, and textures of our beautiful world. I also am inspired by traveling, especially to France, Italy, Greece, and Morocco.
What are the highlights of your forty-year career?
Sharing my clients' joy as they experience their new spaces.
Hosting the official opening of Ambiance Interiors in October, 1977.
Passing the NCIDQ qualifying examination that same year.
Having my work recognized by my peers in the Carolinas Chapter, ASID is always a thrill. I have thirteen Design Excellence Awards from them.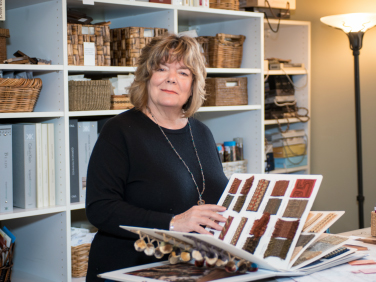 Linda Constable
Where are you from?
I was born in Reidsville NC, but might as well be a mountain native. I have lived in the Asheville area since the 1970s.
Read More Linda's Interview
When did you start at Ambiance Interiors?
A graduate of Haywood Community College after I was an art major at Rockingham Community College, I joined Ambiance Interiors in January of 1979. I have experience in many areas of home furnishings and interior design. I have been a salesperson, Kathryn's assistant, buyer, showroom display manager, receivables manager, drapery installer, project manager, and interior designer.
What are your goals as an interior designer?
I am a fun-loving person and my aim is to make people comfortable, happy, and proud of our collaboration. I love to team with clients, artisans, and builders to make a more comfortable "nest."
I love the variety of interior design. We work at space planning for both existing spaces and new construction, large projects and small, renovations, upgrades, you name it. And there are always new challenges. When Asheville clients moved to southern California, I worked there with them to merge their previous two homes' furnishings. Three trips to California were very exciting!
Where do you find inspiration for your designs?
Nature, music, books, and especially old architecture.
What do you do when you're not making people's homes more comfortable?
I love gathering with friends. I love to garden and cook. If I need some me time, I like to read or listen to music.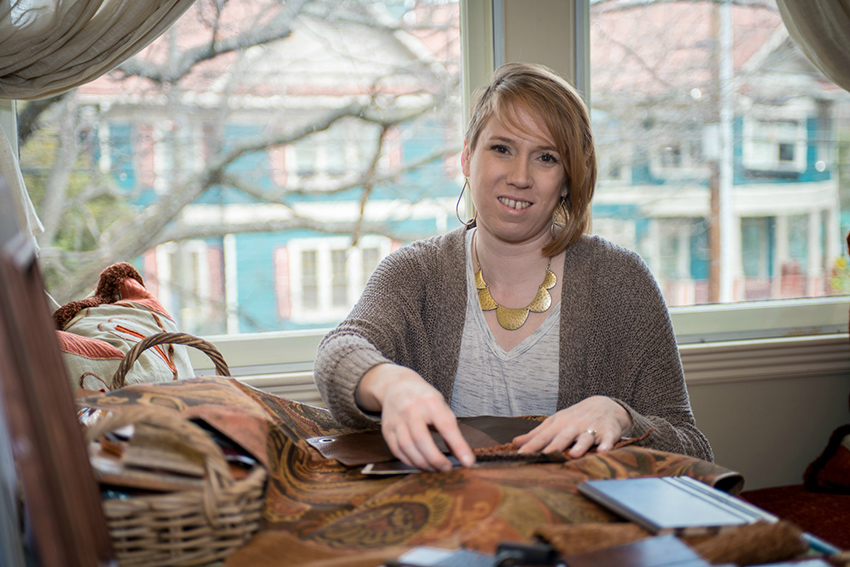 Tessa Eaton, Allied ASID
What is your role at Ambiance Interiors?
I started as an intern under Kathryn and was fortunate enough to earn a full-time job. I am now an Allied member of ASID and I was recently promoted to full-time designer!
Read More Tessa's Interview
Tell us a little bit about your early years.
I spent my early years in Denmark. You might call me a "Danish Modern" woman. My family moved back to the United States when I was 8. Architecture and design run in the family. My great-grandfather was an architect, and I have a cousin who is an architect. My family also owned a chain of home goods stores.
After moving back to the States, my aunt gave me a book about Frank Lloyd Wright, which I wore to shreds.
How did you find interior design?
I tried other career paths—for a time I ran a custom framing shop—but found interior design through the ASID website and went back to school in that field, graduating from Western Carolina University. I am studying for the NCIDQ exam to advance to Professional status with ASID.
What's your favorite part of the job?
I love interior design's collaboration between the client and the designer. Making spaces work for clients' lives and making them look great at the same time is very important to me.
What do you do in your free time?
I'm married with two kids and we love getting outside in these beautiful mountains. Last year (2016) I retired after 7.5 years skating for the Blue Ridge Rollergirls.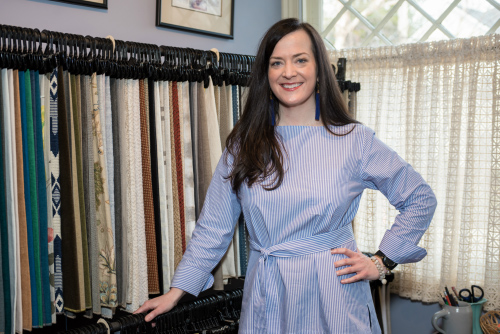 Melissa Moore
What do you do at Ambiance Interiors?
As the project manager, I assist in the design process and keep projects running smoothly. My top priority is to ensure that each client's experience is positive from start to finish. I also work with local, national, and international vendors sourcing products for our clients.
Read More Melissa's Interview
What is a little bit of your history and how did you get started in interior design?
I'm originally from Rutherfordton, NC and gained years of experience in the design world while working with Erin Vorhoff and Aida Saul at Luxe Home Couture in Charlotte. My affinity for design first emerged as a young child. I remember being captivated in my grandmother's home as she and her decorator decided on paint colors, new wallpaper, and furnishings. My dad is an artist and musician, so creativity was always encouraged in my family.
What's your favorite part of the job?
My favorite part is seeing the client's joy and satisfaction after a project is complete.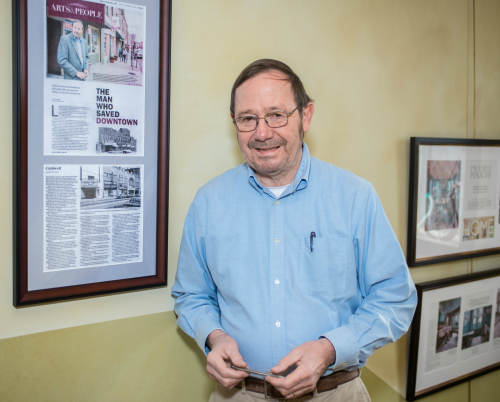 Wayne Caldwell
You have been a part of Ambiance Interiors from the beginning. What have been the greatest challenges during its long history?
The biggest was early on, when the city pushed a downtown mall that would have taken our buildings. Ambiance had only been around two and a half years when the project was announced, and we spent the next year and a half fighting it, which stretched and stressed us in ways a new business should not have to experience. But we, alongside the "Asheville 1000," stopped it. I'm very happy we did.
Read More Wayne's Interview
The second biggest was readjustment during the recent Great Recession. I expect the downtown mall experience made us resilient enough to weather that economic storm.
What is your role at Ambiance Interiors?
I like to say I keep the government happy and the lights on. I write checks and do accounting, in short. Which is sort of strange, as my training is in English and I never took a business course.
You are also a published novelist and poet. How has your work at Ambiance Interiors informed that?
It has given me forty years' worth of insight into all manner of people, so I have enough characters to populate a whole series of novels. But I doubt I'll write a book about this business. Nobody would believe it.
Recent Projects

Ambiance Interiors • 189 East Chestnut Street, Asheville, NC 28801 • 828-253-9403 • Fax: 828-258-2328 • info@ambianceasheville.com