Project Management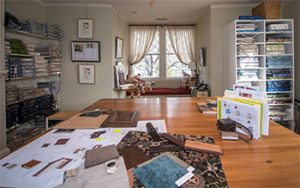 Relax! When you work with the Ambiance Design team, we take care of the details. If the designer is organized, stress of the project is minimized! Our clients love our super-organized notebooks. They contain all floor plans, elevations, product information/specifications relative to their unique project. Having multiple copies means when asking more than one contractor for a bid, each has the same information. It's a rare design firm that is so organized!
Enjoy the Process
With Ambiance, you can actually relax and enjoy the journey of transformation. Our designers are experienced in managing projects for out-of-town clients.
"I can't even imagine going through this process without your help!" – Bob Ruscher, Mountain Air
We have truly thought of everything!
Every meeting begins with a review of a written agenda.
For out-of-town clients, agendas are organized for multi-day meetings.
We set up appointments with showrooms to facilitate the materials selection process.
We communicate after each meeting, and when delays or changes happen.
We turn decisions into proposals and place orders promptly.
We coordinate workrooms for re-upholstery and custom window treatments.
We write thorough work orders and shepherd fabrics to the right workrooms.
We recommend expert paper hangers and carpet installers.
We use specialty painters as needed and coordinate their work with everyone.
At furniture installation, we arrange for trucks and delivery help; designers oversee details on site.
We can also help with artwork selection and accessorizing.
Recent Projects

Ambiance Interiors • 189 East Chestnut Street, Asheville, NC 28801 • 828-253-9403 • Fax: 828-258-2328 • info@ambianceasheville.com